December 30, 2005
OK, this will be the last update of 2005. To end the year in style I made the effort to officially release my book. It has been publically available since August 6:th, but until now it was a so called "Public Beta". Now, after years of writing and refinements the book finally reached version 1.0. It is of course available for download here: www.ttpol.com.
Apart from that, I renewed some stuff on this HOCG pages and I also added some new links. Although it's friday today, by the time I post the next Tech News update, it will be 2006, so:
Happy New Year, folks. 2005 wasn't too bad actually, but let's hope 2006 can be even better.


---
December 26, 2005
Well then, Xmas is pretty much over and the only "cool" thing left this year is New Year's eve. This is the last Tech News of the week update of 2005, but I think I'll do another update before the year comes to an end so I won't wish you a happy new year just yet. Keep an eye on my book site for an updated version of my book any day now..


---
December 19, 2005
Well, now it looks as if I wont be having much time off after all. Instead I'll be working pretty much all days during my Xmas break. Next weekend is Xmas weekend so to those of you who celebrate it: Merry Xmas 2005.
The update today is the usual Tech News update with one or two link updates.


---
December 14, 2005
When the update comes in the middle of the week then you can guess I've been busy with other things. Things that have higher priority than this update include work-related deadlines and critical school work. I had both of those this weekend so the update had to wait. Anyway, now I'm down to my last week in school for this year and I'll hopefully get a chance to catch my breath soon.
Meanwhile, enjoy the late update.


---
December 6, 2005
Time flies when you're busy, doesn't it. December is here and I'm very busy at the moment. School and work is a tiresome combination. Anyway, the update is here ,and yeah, it's late.


---
November 28, 2005
November comes to an end and now I'll have to put up with all the hysterical Xmas related stuff for a month. ;-)
The biggest IT event of the week was probably Microsoft's launch of the Xbox 360. At the moment it's clearly the most powerful console, no surprise there: the competing consoles won't have their next-gen versions out until next spring and the other available consoles are obviously several years old. What's not so clear however, is the quality of the games. THe release titles look a lot like slightly souped up PC games so don't expect a revolutionary gaming experience this Xmas.
And the update is the usual TechNews stuff and some additions to my online portfolio (no, not the gallery).


---
November 21, 2005
Welcome to the 500th official update. The actual number of updates is slightly higher, but this is the 500th entry in this "latest news" section. Apart from the Tech News update (ok, late) and some link updates, there is also some new stuff in my gallery. Until now, there was no new stuff added during 2005, but there is now. I added some pictures of the car model I was working on during my school project. It is modeled entirely with NURBS in Studio Tools 12. Check it out here. At a later date, I might add more Studio Tools related stuff, but I won't make any promises until I know for sure if it's going to happen or not.
Enjoy this 500th update and welcome back.


---
November 18, 2005
This past week I redefined the term "busy" again... ;-)
I was running a bit late with my school project so I had to compensate the last week meaning that such details such as sleep, eating etc.. took a blow. Obviously, my weekend update had fairly low priority meaning that it's so late that it's actually much closer to the upcoming weekend that the past one. Oh well..
The next update will be the (officially) 500:th update of my homepage since it went online in 1997 (yes I keep count :-) so for this special occasion I will add a whole new section to my gallery with some of the stuff I've been doing at my Alias Studio Tools class in school.
Anyway, my apologies for the extremely late TechNews update, but now that it's here, it's all "water under the bridge"..


---
November 8, 2005
Still busy, but that's life ;-) The usual (late) tech news update with lots of news.


---
November 1, 2005
Ouch! I've been a little busy so I almost forgot about this one. But here it is, the tech news update.


---
October 25, 2005
Yep, the weekend update is a Monday night update... again.


---
October 23, 2005
No it's not the weekend-update posted in time for once. It's an updated version of my PC buyers guide. It is written to be fairly timeless, but it still needs updating from time to time. Check it out here.
Also fixed a broken link or two.


---
October 19, 2005
Things have now finally slowed down a bit but I still managed to maintain my recent tradition of really late updates where weekend updates have somehow become mid-week updates. Oh well, it's here now...


---
October 13, 2005
Well, at least as busy as last week, so the update was a bit late... But as if that wasn't enough, the otherwise reliable web-space provider "passagen" has been hit by technical difficulties preventing users (me included) to log on to their FTP. In other words, I couldn't post the update until Passagen fixed the problem (the problem was reported early by others and Passagen were aware of it for several days before the finally fixed it today). I guess this clarifies the difference between free web-hosting and those services you pay for.


---
October 3, 2005
I'm quite busy at the moment, but I managed to squeeze in this update.


---
September 26, 2005
Here we go again, another late tech update.


---
September 19, 2005
Do I even have to mention it? Late tech update.


---
September 12, 2005
To no one's surprise, another late update. And by the way, on this day 4 years ago I was on the Canary Islands starting to write on my book. (I wrote some stuff before this but that never made it into the final product.)


---
September 6, 2005
Very late update this time, so things seem to be getting back to normal. ;-)
I forgot to mention this, but last week was the 5 year anniversary of my Tech updates.

And speaking of anniversaries.. It's been a month now since I first released my book to the public and I have to say that the response has been... well... slow. It's possible I overestimated peoples interest for these kinds of philosophical issues. ;-)


---
August 29, 2005
Another weekend, another tech update. Almost on time, for once... The huge amount of chip related news is due to the annual Intel Development Forum which was held this past week.
I also noticed that my computer buyers guide is getting a bit old. I'll try to do something about it in the near future.


---
August 23, 2005
The (oh yes, late) weekend update is here.
It's been over 2 weeks since the release of my book. In this initial Public Beta phase I've only notified some 40 people about it. And web statistics tell me that about 37 people have downloaded the book, but I'm yet to receive the first comments. I'm guessing downloading was easier than actually reading it ;-)
Although I'm firmly committed to let people read it at their own pace and convenience, this leaves me with a somewhat ironic situation. From my point of view, the book answers or at least discusses the most profound questions about human existence, yet, from the reader's point of view it's just another book which he/she will read when they "have the time". It is perfectly understandable, however it's also worth noting that we all have 24h/day at our disposal, what we do with that time is up to us. By stating that we do not have time, we actually mean that we prioritize other thing higher. Eating, sleeping etc are all high priority activities which we need to perform in order to survive. After that, activities become increasingly more optional... Work, transportation, watching TV etc. So a person which is moderately interested in existential questions will prioritize a lot of thing before reading a book while someone who is eager to discuss the topic might make it a top priority.
Don't get me wrong though, I merely see this as a valuable lesson for my future promotional strategies. Because it makes one thing very obvious. Those who may benefit the most from broadened perspectives may also be the ones most difficult to convince in the first place. This is something I need to take into account in the future..


---
August 16, 2005
If last week's update was really late, the this one is extremely late. ;-)
Although this time I blame my ISP (ComHem) as all their services 'went down' yesterday evening.


---
August 9, 2005
A really late update.
Btw, congrats to the Swedish gals Carolina Klüft and Kajsa Bergqvist for their gold medals at the Athletics championships.


---
August 6, 2005
100 years after Einstein's theory of relativity, and 60 years after the Hiroshima bomb... it's here... ;-)
Ladies and gentlemen, after 4 years in the making, my book is now finally available for download. The version available is 0.998 and labeled as "PUBLIC BETA". This means that I will await feedback from readers (and then applying appropriate fixes) before I consider this book to be ready for the official 1.0 revision number.
The book has it's own web-site and the URL is: http://www.ttpol.com
(The link can also be found in the left frame, under "Philosophy".)


---
August 4, 2005
OK, now I've mailed one copy of the book to my self and left another to a firm that validates copyright claims so to speak. With any luck, I should get both by tomorrow, so in theory I could make the book available for download then. But we'll have to wait and see if my copies really show up tomorrow. Worst case scenario, I have to wait til monday. Either way, I will make an announcement when the time comes and I will of course provide all the necessary links (it has its own domain).
And thanx Casper, for helping me out with the ASP/PHP stuff on my new site.


---
August 1, 2005
What was it Douglas Adams used to say? That he liked the "swoosching" sound the deadlines made when they flew by? Well, it's not that bad actually... Yea, I missed it but I still intend to make my book available this week. I'm down to some minor adjustments, the rest is copyright stuff, getting the asp work on my site that will host the book download (it has it's own domain, it won't be this one) and so on.
Anyway, I still had to squeeze in the weekend update, so here it is.
You may have seen in the news - the announcement of the discovery of a tenth planet. First observed in 2003 it was announced this week that it is actually bigger than Pluto (usually considered as the 9th planet). This re-ignites the debate on which celestial bodies deserve to be called planets. As yet, there is no clear definition. So don't be surprised if theres an 11:th planet announced in the future...Or 12:th... and so on.. The outer limits of our solar system are still poorly understood and examined.


---
July 31, 2005
If you are tuning in to see if I kept my promise about the release of my book, I'm afraid I will have to disappoint you. When I set the date I didn't bother to check what weekday the 31:st was. There are some copyright issues I need to take care of first and it involves mailing packages and for that I need the services of the postal office.
But check back in the middle of the week and see the status. I'm really almost there....


---
July 25, 2005
As far as site updates go, it's just the regular tech-news update.
But the week itself had a few memorable moments. Star Trek fans all over the world received the sad news that the actor James "Scotty" Doohan died - ironically on the very same day as NASA celebrated their moon landing anniversary (July 20th).
In an unrelated note (though also an anniversary), the Amiga computer officially turned 20. I attended this relatively small fair to remember the old days and to see what's being planned for the future (although admittedly, I haven't been using my Amiga since 1998).


---
July 18, 2005
And again... A late weekend update..
But while I'm at it, I recommend you to try this cool program from Google: Google Earth. If you have a fairly new PC it should run just fine. The program allows you to search for locations all over the world and shows them in detail. You can fly around the Earth freely and zoom in on interesting places. Oh, and it's free.


---
July 11, 2005
Yet another late tech update.


---
July 4, 2005
You may have noticed that it's July already.. ;-)
Apart from the usual tech update, I also added som stuff to my astronomy pages, here. And speaking of astronomical stuff, NASA prepared fireworks of the special kind for the 4:th of July celebrations. So ok, it's only a holiday in the US, but still, the event was fairly spectacular. This actually happened on Monday morning CET so I would normally wait until next week to include it in my weekend news, but I'll make an exception this time as it will feel as old news by this time next week.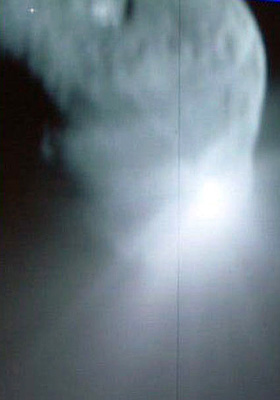 What you see here is the impact explosion as the Impactor probe shot from the Deep Impact spacecraft hits comet Tempel 1.
---
June 27, 2005
The expected weekend tech update. Almost on time for once...


---
June 20, 2005
Finally then... Summer break!
I shouldn't complain, but the break barely lasts 2 months. School starts on August 15:th, so whatever I intended to do this summer must be done quickly. I do have stuff planned as I'm involved in a project I can't really talk about at this time.
One project I should mention however is my infamous book that never seems to be completed. I will take this opportunity to announce that I have decided that the book WILL be released to the public sometimes during July 2005 (Probably July 31:st then ;-) I will do it regardless if I feel that the book is 100% as i want it or not, simply because if I don't release it now, it may easily slip another half year.
As I have a better idea of a release date, I will announce it here and of course the web sites I have registered for this purpose.

As for today's update.. yea, it was late again.


---
June 14, 2005
Ok this is late, even by my standards, but I've been terribly busy over the weekend and frankly, I'm still busy. Still, I'll try to squeeze in the weekend update (more like mid-week update ;-)
This week is my last week in school before the summer break, so next weekend I should have plenty of time.


---
June 7, 2005
Updated this page as I upped my system RAM to 1,5GB.


---
June 6, 2005
Aye caramba, is it June already? I certainly can't tell by looking at the weather here in Gothenburg. Pretty lousy indeed. And it just happens to be June 6:th today, which means it's Sweden's National Day. Which from this year on will actually be a holiday so people get to stay at home from work or school. Previous years it wasn't a holiday and hardly anyone celebrated.
Anyway, June also means my first year of my Design Technique course is coming to an end. Actually, it's 2 more weeks, but the end is near so to speak.. The update itself contains the usual late Tech stuff and also an updated version of this HOCG page (2005 section).


---
May 30, 2005
Back to normal then. Just the regular tech update (yes, late again).


---
May 26, 2005
Congratulations Liverpool!!!!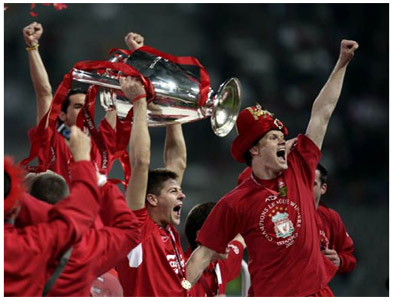 Pic borrowed from

www.aftonbladet.se


After the most incredible Champions League final, my team Liverpool are now finally back at the top of European Football. I've been waiting 21 years to see them win the European Cup/ Champions League again.
After a horrible start and 0-3 at half-time, it looked as an embarrassingly easy win for AC Milan. But 3 goals in 6 minutes(!) early on in the second half turned everything around. Liverpool went on to win on penalties.
I doubt we'll ever see a CL final like this again... Liverpool FC, you RULE!!


---
May 23, 2005
Following Microsoft's Xbox announcement last week, this week was even more interesting partly due to the E3 show with the unveiling of Sony's Playstation 3 console, but also because of the release of the final Star Wars movie (Episode 3).
A remarkable week then for computer graphics enthusiasts. First we got to see some jaw-dropping graphics in the PS3 teaser 'KillZone' and then the astonishing amount of high quality cinematics in Star Wars 3. Although we all know that Lucas doesn't actually crate the visuals himself, he certainly deserves credit for bringing such an amazing visual feast to life. And I get to see it all for a mere €9. Thank you George Lucas! ;-)
It's worth pointing out that we will have to wait for a LONG, LONG time before we have such monumental events coinciding like this again. Enjoy the moment!

Oh yeah, I almost forgot. The Weekend update was late due to some unscheduled schoolwork, but then again it's not exactly the first time it's late.


---
May 16, 2005
This past week a couple of interesting things happened. Microsoft presented its successor to the Xbox gaming console. As some of us already knew, the name of the new console is Xbox 360 and will be available worldwide this autumn. (Usually, Europeans need to wait forever before the consoles reach them/us)
My guess is that Microsoft sees Christmas 2005 as a good opportunity to grab a few more Xbox fans as neither Sony nor Nintendo have a product ready in 2005. All consoles will be available worldwide for Xmas 2006, so this was a rare opportunity for Microsoft.

In other, less amusing new, the StarTrek show Enterprise went off the air after 4 seasons. This autumn will be the first since 1987 without a StarTrek series. After meager viewer ratings Paramount decided it was time to give the franchise a rest. But it will probably come back within 5 years or so.. We'll have to wait and see.

The update itself is almost on time (Sunday night CET, rahter than Monday evening) and contains the expected tech news.


---
May 9, 2005
Late, late, late... Did I mention the update is late?


---
May 2, 2005
The 'real' update then. This time it's late too, but not that late.


---
May 1, 2005
Ok, don't ask me how this happened, but I somehow managed to forget to post last week's update. I started working on it but i forgot to finish it and upload it... Oh well. It's up now, and then there will be another one later (tomorrow).


---
April 25, 2005
Late update with lots of news and some minor changes in the links section.


---
April 18, 2005
Late update with lots of news and some minor changes in the links section.


---
April 11, 2005
The usual (late) tech news and an update of my Frontier Fan Site.


---
April 4, 2005
I'm not a religious man but I don't think any of us missed the big news on Saturday evening (CET): The death of pope John Paul II. obviously this kind of news affects a lot of people all over the world. However I can't help noticing the irony of people being sad for his demise. After all, he is supposed to be the "holiest" of all Catholic people. In that particular belief system, death is merely the beginning of a wonderful journey and a return to God. So in a way, people should be happy for him. Oh well...

My Weekend updates are about technology news, not news in general however, so the update is the same as usual. A recap of the most interesting technology news of the past week. Speaking of tech news - I'm sure you've noticed that it's April now ;-). Rumor has it that AMD, the maker of the Athlon CPU will release dual core versions of the Opteron server CPU this month. The Opteron was released in April 2 years ago, so it's a nice way of celebrating the anniversary. Anyway, what this means is that dual core desktop CPUs might not be far behind. Dual core basically means you have two CPUs in your PC instead of one. Once you've tried dual core, you'll never want to go back ;-).


---
March 28, 2005
Easter came early this year. Not that I'm a huge fan of religious holidays, but hey, it's a 4 day holiday. ;-) It also happened to coincide with the switch to Summer time, or Daylight savings time as some prefer to call it. Btw, if you ever wondered how Easter Sunday is determined, check out this link.
Other than that, the update contains the usual weekend stuff.


---
March 25, 2005
An unscheduled update. I added a section to this page, where I talk about digital cameras and what the 'Megapixels' really mean. I also made some changes in the links section (removed a few, added a couple)...
I'll be back this weekend with the usual tech news update. Enjoy the Easter if you belong to those who celebrate it. For me, it's a nice little 4 day break.


---
March 21, 2005
Doh, I noticed that I forgot to change the date on last weeks update so it could seem as if though the news were 2 weeks old, which of course wasn't the case.
Anyway, due to various stuff I had to do on Sunday, the update is "a bit" late (actually very late), but nothing unusual these days.


---
March 14, 2005
Finished the big school project on Friday so this weekend was a bit less stressful. The update is still late though as I "had" to watch the Irish Masters (snooker) final yesterday. The past week was pretty interesting for all of us interested in IT and Computer Entertainment as both the big CeBIT show and the Game Developer Conference were held.


---
March 06, 2005
Even busier this week than last week. This time the update is on time though..


---
February 28, 2005
Quite busy with school-work these days. So yes, another late update.


---
February 21, 2005
I made some further modification to my new style-sheets and added some new links to the developer section. Other than that, it's the usual Tech update (late again).


---
February 16, 2005
A small difference for the viewer, a giant leap for the administration of this page. What am I talking about? Well, for some reason I decided to (finally) make my homepage fully HTML4.0 compliant which means that all formatting is done through the use of Style Sheets.
Now, considering my homepage consists of hundreds of pages, I had to draw the line somewhere. First of all, I 'only' updated the active pages. This means that old archived news-pages have not been altered. But of the remaining, active pages - some 95% are fully HTML 4.0 compliant.
UPDATED: Removed link referring to help page, since the problem has been fixed.


---
February 13, 2005
I've been quite busy this past week and that includes the weekend. But thanx to some careful planning I actually managed to post this week's tech update in time.


---
February 8, 2005
Just the tech news update, but ultra-late this time. Sorry about that, but I had some schoolwork that had higher prio. It seems this coming week will be a quite busy one. Oh well..
UPDATED: A couple of link additions/removals.


---
January 30, 2005
There we go, January has come to an end and that 'beginning of the year' -feeling is slowly fading away.
I bought a couple of accessories for my computers so I had to update this page. Nothing spectacular though, a new DVD burner, some more RAM and a couple of other minor things.
Other than that and the increasingly busy schooldays, there's the expected weekend update with the best technology news of the week.


---
January 24, 2005
Nothing spectacular happened this past week. Just the usual (and now late again) update.


---
January 17, 2005
Needless to say, the big event of the week was the successful landing of the Huygens probe on the big Saturn moon, Titan. Although the amount of images released to the public will increase over time, the images released until now are relatively few. Below is a panorama taken by the descent imager on board Huygens and shows what resembles a shoreline. It should be noted that this panorama has been modified by me. The original material can be seen here.



The coloration reference was taken from this official color photo of the surface released by ESA.
Alright then, another highly anticipated event is now behind us and life moves on. The actual update is the expected tech news update. I also added this Huygens event to the historical timeline found on my astronomy pages..


---
January 14, 2005
'We are the first visitors of Titan!' (Jean-Jacques Dordain, ESA director general)
Indeed, my friends... Today was the day some of us have been waiting for.. And waiting for a long time.. After more than 7 years of voyage through space, ESA's Huygens probe riding on NASA's Cassini Saturn orbiter finally touched down on Titan - the second largest moon in our solar system and the only one with an atmosphere. Though the voyage to it's destination was a long one, the scientific mission itself lasted only for a couple of hours.
Behold! An image of another world! The last major body in our solar system that had a secret, never-before-seen surface.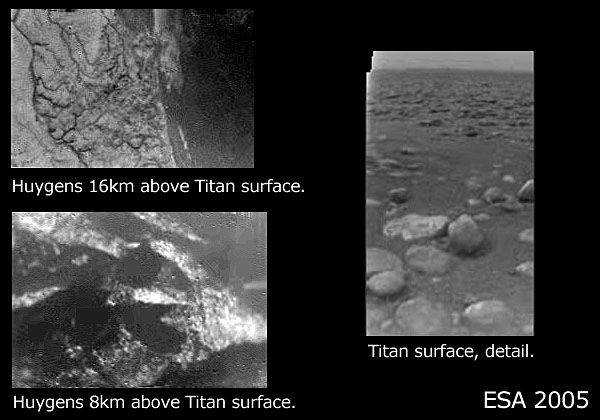 ---
January 10, 2005
Things are slowly returning back to normal and on Monday I'm off to school again. This weekend we had a particularly harsh storm here in Sweden (and a couple of other countries) with some casualties and a lot of damage. Certainly, next to nothing compared to the recent disaster in Asia, but nevertheless noteworthy for us who live here.
This past week also marked the 1 year anniversary for NASA's Mars rover Spirit. It has now lasted more than 4x the original mission time. The second rover is trailing the first one with a couple of weeks, so it's anniversary will come soon.
And let's not forget the most exciting couple of hours in a very, very long time. This Friday, the 14:th the European space probe/lander Huygens will descend through Titan's atmosphere. The whole scientific missions will last just some 5 hours and in this time we will hopefully learn a lot about Saturn's large moon and with some luck, get photos from this mysterious moon, which happens to be the only moon in the solar system with an atmosphere. I will of course report about it next weekend. Meanwhile, you can keep an eye on this website to follow the Cassini/huygens mission.
The update is the usual tech-news and some minor link changes.


---
January 2, 2005
So here we are then, the holidays behind us and a new year ahead of us. Today is Sunday which means another tech-news update. We all know that the disaster in Asia has been on all our minds and traditionally the amount of tech news is meager this time of year anyway. Still, thing move on and today's update contains, apart from the tech news, an updated version of History of Computer Graphics.


---
January 1, 2005
I think we can all agree that the previous year could have ended happier considering the huge disaster in Asia with the current death toll pending somewhere around 150,000! Nevertheless, here it is: the all new and shiny 2005.
Of course, there is nothing special with January 1:st 2005, it just another day after the previous one so nothing has really changed, still.. Sometimes people need a fresh start; a specific date that will help the to start over or otherwise.

I usually start the recap with the number of site updates during the year. This time will be no exception. For some reason, the number of yearly updates always lands on 60-something and true enough, during 2004 this site was updated 68 times.

At a personal level, 2004 was indeed better than 2003 except financially perhaps. But when I made my comeback to the school bench I knew the cash flow would diminish significantly.

Apart from being my personal home on the Internet, this site is mostly about technology news and space research. In that respect, 2004 was a very interesting year. Almost exactly one year ago the first of the two successful NASA rovers landed on Mars, built to last about 90 days. But believe it or not, they are still very much operational and at least one of the rovers is in perfect health and could continue to function for a lot longer. Scientifically, the rovers pretty much proved beyond reasonable doubt that Mars was once a wet planet with flowing water (oceans). ESA's Mars Express orbiter strengthened the evidence further.
Then in July the moment we'd all been waiting for. The arrival of the (expensive) Cassini spaceprobe at Saturn. The orbit insertion itself a risky procedure with the spacecraft actually flying into orbit through a gap in Saturn's rings! And just a week ago (Xmas eve) the Cassini orbiter released the European Titan lander Huygens that has been riding on NASA's Cassini for 7 long years.
(As we speak, the lander is actually falling towards Saturn's largest moon Titan. On January 14:th an onboard will wake up the probe and begin its controlled descent. I really hope this will go well, as it will take many years at best, to attempt anything like that again.)

[UPDATED] Let's not forget to mention the conclusion of the X-Prize competition. At the beginning of October, Burt Rutan and his team successfully concluded the necessary space flights with the first ever private spacecraft; the SpaceShip One. Soon after, the company (Scaled Composits) signed a deal with Richard Branson's Virgin Galactic to produce five more ships and thus kick-starting the new era of space tourism. [/UPDATED]

Back to computers and more everyday technology now. 2004 was a very good year for computer game enthusiasts. 3 very big PC titles were released (FarCry, Doom3 and of course Half-Life2 ) and at least two of them were very eagrly awaited by the gaming community. I did in fact upgrade my computer with top-notch hardware to be able to enjoy these games as they were meant to be played. ;-) I got a new high performing graphics card from nVidia, I bought a new motherboard and 64-bit AMD CPU and another big SATA HardDrive. Finally I topped it all off with a very nice soundcard. Earlier in the year I had also upped my Internet connection to 8Mbit.

In the world of sports there is easily one single happening that outshined everything else as far as I'm concerned. Olympic hosts Grece somehow managed to win the European Championship in football(soccer). German Otto Rehagel expertly coached the Greek team to a stunning achievement. My teams Sweden and England just didn't have the right kind of luck to go all the way. Oh well, we'll be back in WC2006! ;-)

So what were the actuall changes on the site in 2004. Well, I did add some 4 pics to the gallery and I put up a temporary portfolio (which is still temporary btw). I also re-made the astronomy pages from scratch and updated the PC buyers guide.
But what about this book I keep talking about then? Well, last year I was foolish enough to promise that I would complete it in 2004. To my defence, I didn't know at that point that I would start to study again - which of course is rather time consuming. But still, I came as far as 'Release Candidate 2' so as you can imagine, it's really close... No, really!
Apart from this traditional summary, today's update also contains some reshuffling in the archives, new calendar and some other minor tweaks.

Now, as always, I'd like to say to all my visitors: 'Thank you for visiting and welcome back'.



---
2004 Click here for older (2004) updates.
2003 Click here for older (2003) updates.
2002 Click here for older (2002) updates.
2001 Click here for older (2001) updates.
2000 Click here for older (2000) updates.
1999 Click here for older (1999) updates.
1998 Click here for older (1998) updates.
1997 Click here for older (1997) updates.
1996 Click here for older (1996) updates.